In Memoriam of prof. Jan Izdebski
---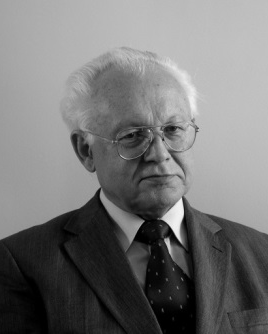 Prof. Jan Izdebski
(1937 - 2018)
With profound regret and sadness we write to inform you of the sudden death of Jan Izdebski on March 5, 2018, a retired full professor at the Faculty of Chemistry at the University of Warsaw, deputy dean of the Faculty of Chemistry (1981-1990), and for years (1981-2008) a Head of the Peptides Laboratory.
Since the founding of the Peptides Laboratory at Chemistry Department of Warsaw University by Professor Stefania Drabarek in 1966, his scientific interests have been connected with peptide chemistry. Jan Izdebski took a postdoctoral internship in the laboratory of prof. Miklos Bodanszky (Case Western Reserve University, Cleveland, USA), and in later years he worked in the laboratory of prof. Choh Hao Li (University of California, USA) and as visiting professor in the laboratory of the Nobel laureate prof. Andrew Schally (University of New Orleans, USA).
His main interests concerned Structure Activity Relationship study of biologically active peptides and methodology of peptide synthesis. In particular, he worked on the modification of the Young test allowing to quantify the degree of racemization based on the composition of optical isomers. Thanks to the modified test, it was possible to point to a very efficient anti-racemic additive, 2-hydroxyimino-2-cyanoacetic acid. Currently, it is a very frequently used reagent (trade name: OXYMA). In the following years, professor Izdebski conducted research on mammalian hormones and the synthesis of active painkillers. A special achievement has been the research in the field of the synthesis of active analogs of growth hormone releasing factor (GH-RH) initiated during the stay of professor Izdebski in the laboratory of prof. Andrew Schally.
He was a member of the Editorial Committee of the leading journal in peptide chemistry Journal of Peptide Science, he was the organizer of the IX Polish Peptide Symposium in Pulawy in 1987, and he was a representative of the Polish peptide group in the European Peptide Society (2006-2010).
Professor Izdebski will always be remembered by his students, colleagues and friends from the Faculty of Chemistry and the peptide community in Poland and around the world…
Contributed by Aleksandra Misicka-Kęsik